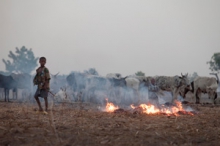 Fire management will require increased investment
9 September 2011, Rome - Countries need to pay more attention to fire management on lands bordering forests in order to prevent the 95 percent of wildfires that originate from human activities in forests and adjacent areas, an international partnership for forests warned today.

The Collaborative Partnership on Forests (CPF), which consists of 14 international organizations and secretariats, issued its warning as many countries are experiencing an increasing incidence in the frequency and size of wildfires due to lack of fire management policies and impacts of climate change.

"In many cases the fire starts on agricultural or pasture lands and spreads quickly on nearby forests," said Pieter van Lierop, an FAO expert on forest fire management. "When people continue to burn rubbish and agricultural waste, clear lands by burning vegetation for agricultural or development purposes, or burn pastures to allow grass to sustain its high productivity, there is always a danger of large-scale vegetation and forest fires particularly under dry and hot weather conditions," he added. "There are practical things that can be done to reduce the risks of fire escaping from agricultural areas.

Integrated landscape management approach to prevent fires

It is vital to think about fire prevention and suitable use of fire not only in forests but also through other parts of a landscape, in particular land in the vicinity of forests. For example, people should try to avoid establishing large homogeneous forest areas in regions with fire-prone vegetation, which usually exacerbate fires, and instead maintain mosaic landscapes with natural firebreaks provided by combining different land-uses.

Burning agricultural waste early in the dry season before the surrounding landscape gets too dry and avoiding burning during high winds will help avoid big wildfires.

Activities on lands on or around peat soils require control. For example, mega-fires in the Russian Federation last year damaged more than 14 million hectares, killed more than 50 people and became almost uncontrollable mainly because nearby peat lands had been drained for irrigation of adjacent agriculture lands. This in turn affected the neighboring forests, which also became drier. Experience has shown dried peat land fires to be nearly impossible to extinguish.

More funds needed for fire management

CPF stressed that frequency and intensity of forest fires could be reduced by including fire management in broader landscape management strategies and through more integrated approaches to fire management -- this includes not only fire suppression but also fire prevention, controlled burning, early warning and preparedness. All require increased investment.

"As most fires are started by people, countries should invest more in integrated fire- management strategies, especially in the often overlooked area of prevention," said van Lierop. "Local communities should be trained on how to prevent vegetation fires throughout the whole year and not only during the fire season. More attention should also be given to monitoring wildfire carbon gas emissions as a potential contributor to climate change."

Countries should also invest in research on the social and economic drivers of fire to be able to improve the way they are addressing the underlying causes of fires. Ongoing research at CIFOR is showing that the preconceived notions of why and how fires start are not always right and at best managers only generally understand a part of the picture.

FAO is now forming a multidonor trust fund programme to raise funding to respond better to member countries' demands. It is expected to be finalized by November this year.

The International Tropical Timber Organization (ITTO) published guidelines on fire management in tropical forests in 1997 that provide a basis on which policy-makers and managers at various levels can develop programs and projects to address specific national, socioeconomic and natural problems related to fire in natural and planted tropical forests.

ITTO's Executive Director Emmanuel Ze Meka endorsed the proposed multi-donor trust fund to be established by FAO to assist countries to deal with forest fires, noting that "We have the knowledge and policies in place to reduce the damage from fire in tropical forests - the main missing link is sufficient funding for training, equipment and monitoring technologies to be able to effectively implement such policies."

Source: Media Centre FAO