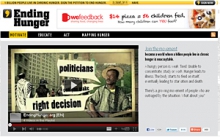 Campaign website cited for excellence of content, humanitarian value
12 September 2011, Rome - FAO's new www.EndingHunger.org website has received special mention for excellence of content and humanitarian value at the ninth edition of Premio Web Italia.

Presenting the award on Saturday in Cava de Tirreni the Jury stated:

"The FAO EndingHunger project receives special mention for the quality of the content on the portal, for its great social value, for its humanitarian commitment and the global involvement of the site. The Premio Web Italia joins the millions of people who have signed the petition and who helped to give resonance to the initiative."

The seven-language EndingHunger website sits at the centre of a global campaign dedicated to building a movement of anti-hunger activists worldwide. It brings together multimedia content, video shorts, animations, podcasts, recommended books, live events, blogs, contests and news from like-minded groups around the world.

"We are thrilled that the EndingHunger website has received this special award from the Premio Web Italia jury ," said FAO assistant director-general for communication and external relations Lorraine B. Williams. "This important recognition helps us keep the issue of chronic hunger firmly in the spotlight."

The EndingHunger campaign began in 2010 as an FAO initiative in partnership with nonprofit groups, private companies and other UN agencies. Initially referred to as "The 1billionhungry project," the campaign raised eyebrows with its provocative "I'm MAD as HELL" street posters and angry television ads featuring British actor Jeremy Irons.

In just six months the project attracted over 3 million signatures to a petition to end hunger, triggered many anti-hunger events and drew thousands of engaged fans to its Facebook community.

In its 2011 season, the campaign now challenges its followers to bring others into the movement, to educate themselves about hunger's causes and solutions, and to plan actions to push hunger to the top of the national and international political agendas.

"The EndingHunger movement operates on the premise that the dynamics of chronic hunger are already known," said Williams. "The solutions to hunger are known, but unfortunately most governments have never made food security a national priority.

"We want to change that. Because ending hunger in our lifetime is totally feasible."

A growing list of personalities is supporting the EndingHunger movement, including Hollywood actress Susan Sarandon, Canadian and Australian singers Celine Dion and Delta Goodrem, U.S. track and field legend Carl Lewis, Chilean writer Isabel Allende, Spanish footballers Raúl and David De Gea, former Brazilian President Luiz Inácio Lula da Silva and Italian author Andrea Camilleri.

Williams singled out EndingHunger creative director Scott Grove, along with web designer Antonella Porfido and site developer Bar Zecharya, for their role in building www.EndingHunger.org. The Premio Web Italia is an annual competition, aimed at encouraging excellence in web publishing.

Source: Media Centre FAO