News & Highlights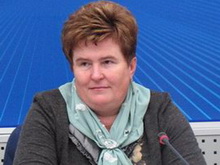 Government support to agriculture to go down to 10% by 2016
MINSK, 7 February (BelTA)
Government support to agriculture in Belarus will be reduced to 10% by 2016, First Deputy Agriculture and Food Minister Nadezhda Kotkovets told a press conference on 7 February, BelTA has learned.
Last year government subsidies to agriculture amounted to 15.4%. In 2011 it is expected to total 16%. The share of government support to agriculture will be reduced, including in line with one of the SES agreements.
Nadezhda Kotkovets also stressed that organizations under the Agriculture and Food Ministry seek to attract foreign investments in industrial processing. For instance, the Belarusian party is interested in cooperation with the Danone-Unimilk company. Belarus' agriculture industry has raised Israeli, Iranian, and German investments as well. Moreover, Belarusian companies are eager to attract foreign investments in the construction of poultry and hog-breeding farms.
Video: Reporting of Belteleradiocompany (Only in Russian)
Source: Belarusian Telegraph Agency